Matthew Steven Bracey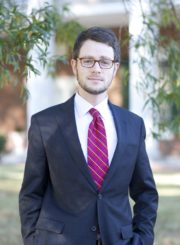 Matthew Steven Bracey and his wife Sarah live in Mount Juliet, Tennessee. They attend Sylvan Park Free Will Baptist Church, where they are involved in ministry. Matthew works at Welch College, where he serves as the Vice Provost for Academic Administration and a faculty member, teaching courses in history, law, theology, and interdisciplinary studies. He also coaches cross country. Matthew holds degrees from Cumberland School of Law (J.D.), Beeson Divinity School (M.T.S.), and Welch College (B.A., History, Biblical Studies). He is currently pursuing Ph.D. studies in Christian Ethics Public Policy with a Christian Philosophy minor at Southern Baptist Theological Seminary.
He is a co-founder and Senior Editor of the Helwys Society Forum (thehsf.com). He has written a number of popular and scholarly articles. In addition, he has contributed chapters to The Promise of Arminian Theology (Randall House Academic), which he also co-edited, and Sexuality, Gender, and the Church: A Christian Response in the New Cultural Landscape (Welch College Press). His interests include cycling and running, ethics, gardening, history, law and politics, and theology.
Read all posts by Matthew Steven Bracey