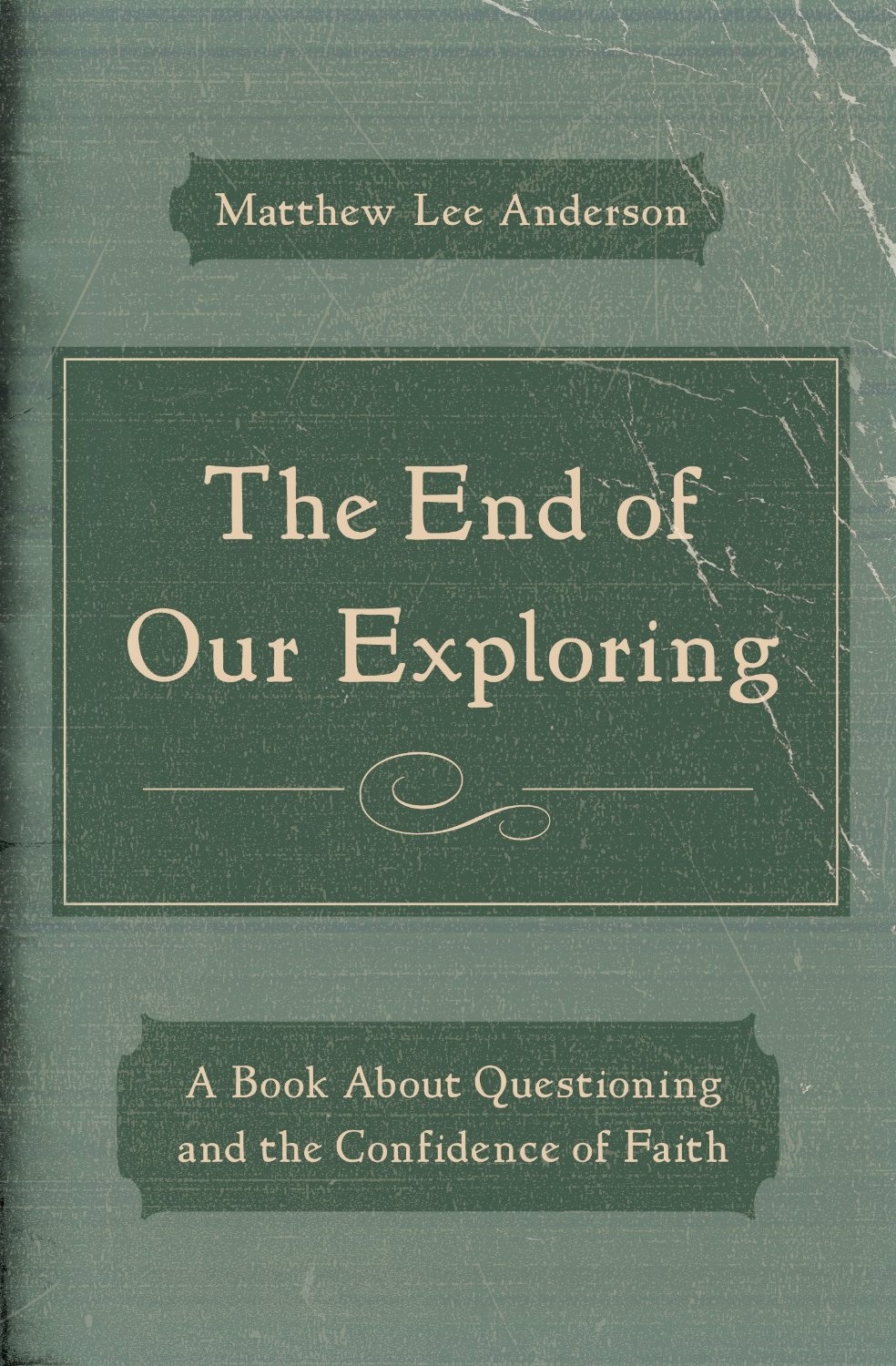 "There is no such thing as a stupid question." We've heard this caveat heralded by educators and parents alike, and certainly the sentiment is true. While the practice of inquiry can be healthy, we live in an era absorbed with questioning and doubt, never concerned with finding answers. Many curious inquirers like to question, but ironically could care less whether they find the right solutions. But, if inquiry leads to answers, and we want to find the answers, then questioning must be good, right?
This is the topic that Matthew Lee Anderson tackles in his most recent book The End of Our Exploring: A Book About Questioning and the Confidence of Faith (Moody, 2013)—and not a moment too soon. In a generation swarming to doubt everything from institutions to religion (and the combination therein), Anderson's book on how to question well is a breath of fresh air.
The Author
Matthew Lee Anderson first authored Earthen Vessels: Why our Bodies Matter to our Faith (Bethany House, 2011), followed by the aforementioned book. He is the founder and lead-contributor at Mere-Orthodoxy, an online blog thoughtfully discussing "Christianity's shape in the public square" [1]. Anderson is also a member of the Torrey Honors Institute and a graduate of Biola University. He is currently pursuing an M.Phil in Christian Ethics at Oxford University. His articles can be found in a number of places, including The Gospel Coalition, The City and Christianity Today.
Anderson is a thoughtful, young evangelical—something that our culture is in desperate need of. Furthermore, his thoughtful engagement with a variety of areas has positioned him well to write a book on questioning.
Book Summary
One might ironically ask, "Can you really write an entire book on questioning?" To that, Anderson would answer yes—and he does it well. However, this volume isn't solely about asking questions, but more specifically about how finding ourselves in Christ affects the way in which we inquire about the world around us. Anderson writes, "This book explores what it means to ask a question and treats questioning as a kind of exploration" [2]. Furthermore, he writes, "I am chiefly concerned to explore whether we can question well and what such questioning might look like" [3].
The book is separated into ten succinct chapters, each one exploring the arena of questioning from a different perspective. Chapter 1 begins with some preliminary thoughts about "the questioning life." He reminds us that a life of questioning has not always ended well for people (think Solomon or Socrates), along with showing how we intentionally inoculate ourselves from inquiry. In Chapter 2 he addresses the form of questions themselves. This chapter lends itself to deep introspection. He writes, "Those who are prone to question must, above all, question themselves" [4]. Chapter 3 engages the ever-evolving topic of doubt. Anderson shines in this chapter, engaging the "high value of doubt," and stating, "The genuinely revolutionary, countercultural stance is the same as ever: to say our creed with the confidence that comes from living within it and finding that it is true, good and beautiful" [5]. He wonderfully dichotomizes the difference between inquiry and doubt, giving space for the former and restrictions to the latter.
In Chapter 4, Anderson wrestles with what true satisfaction looks like in an exploration of questioning. Chapter 5 deals with the integration of our question and the world in which we practice it. He rightly states, "We inhabit our beliefs and commitments, forming and reforming them through our interactions with the world and our critical reflection about it" [6]. In Chapter 6, Anderson explains the ways in which questioning leads to liberation. Chapter 7 is particularly wonderful, exploring the benefits of inquiring within a community, which leads into Chapter 8's exhortation on friendship and disagreement within a "questioning life." Chapter 9 becomes more practical while focusing on how to ask a good question. Lastly, Chapter 10 concludes the book in a wonderful summary.
Strengths and Weaknesses
Anderson's new book is a wonderfully written, concise dive into what it means to be an inquirer in a world of doubt. Two elements are of particular excellence within the book.  First, Anderson's prose is superb. Readers of Lewis and Chesterton will resonate with the way Anderson is able to turn a phrase or concept to bring more light to the subject. His writing style is insightful, yet deep, but also clever without being trivial. There were many areas of his book that were a delight to read just for the way in which he brought new light into a forgotten corner of thought. Second, Anderson kept a constant thread running through the book about the confidence we can have in Christ even when we question things. The wonderful aspect was that it did not seem to be redundant. He masterfully threaded the confidence of our faith through his exploration of communities, freedom, friendship and doubt, without ever parroting himself.
Another area in The End of Our Exploring that readers will enjoy is the way in which Anderson wrestles with topics that might, at first glance, seem peripheral and unrelated. He cleverly addresses some perceived problems with fundamentalism, the fallacy of clichés, and many other topics, while never seeming to leave the theme of questioning.
While an excellent book, only two thoughts of change arose as I read. Many of Anderson's clever remarks were delegated to the footnotes. A diligent reader would have to purvey the footnotes in order to find these gems. Certainly, marginal remarks can cause a loss of tempo in the writer's flow. However, while reading Anderson's book, I did think that he could have brought some of his clever (and just plain humorous) remarks into the body of the text. Second, Anderson is not always the greatest economist of words. While his writing style can be both poetic and thoughtful, it can also be perceived as prolonged. I believe this is due, in large part, to Anderson's flow of thought.  He is very fluid in his form and argumentation.
 Should You Read It?
It may seem redundant to ask the question, "Should you read it?" concerning a book about questioning.  Maybe the best way to answer that question is with another question. Have you ever realized the innumerable amount of questions found in Scripture? From Satan's "Did God really say…?" (Gen. 3:1) to Jesus' "Who do you say that I am?" (Mk. 8:29), from God's "Where were you when I laid the earth's foundation?" (Job 38:4) to the Jailor's "What must I do to be saved?" (Acts 16:30), questions permeate the Scriptures.
But these questions are not left unanswered. Rather, Scripture is filled with answers—most importantly the Answer, in Whom we have confidence to seek all other answers.  Matthew Lee Anderson's new book rightly calibrates us to inquire deeply while never forsaking the foundation upon we stand. If you are interested in exploring this relationship between confident faith and confident questioning, I highly recommend The End of Our Exploring by Matthew Lee Anderson.
_______________________________________
[1] "About Mere Orthodoxy," Mere Orthodoxy, http://mereorthodoxy.com/about/ (accessed September 2, 2013).
[2] Matthew Anderson, The End of Our Exploring: A Book About Questioning and the Confidence of Faith (Chicago: Moody Publishers, 2013), 11.
[3] Ibid., 12.
[4] Ibid., 36.
[5] Ibid., 49.
[6] Ibid., 90.